straight to video
Summary
Frank loves gerard
jamia loves lindsey
mikey loves frank
rays in love with jamia
lindsey loves frank.
bob, well guess what ladies he's single **fangirls scream in joy** oh and they nicknamed him boob. :D

p.s no one knows who gerard likes and i will NEVER do a gerard pov chapter mwahahahahahaha
Characters

bob bryar a.k.a boob
very aware of whats going on in the group. knows who likes who feels bad that none of them match except for gerard. also unaware of who gerard likes.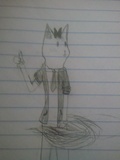 Bubbles
bob's VERY intelligent cat. white fur hazel orbs not very tall actually only two feet tall :D

frank iero
he loves gee! IS COMPLETELY CLUELESS OF THE OTHER TWO THAT LOVE HiM!

gerard way
no one knows who he likes very unaware of all the love going on in the group.

jamia (i can't remember her last name heheheh :D)
loves lindsey (jindsey!!) is COMPLETELY unaware of the other one that loves her

lindsey ballato
loves frank (findsey? idk how to make something up with frank and lindsey )

mikey fucking way
loves frank (frikey yaay)

ray toro
loves jamia! (raymia!!)
Chapters