This Pain It Visit's Almost Nightly
Summary
That short description is a little different than the one I have on Mibba, but the story stays the same.
Frankie was dying he only had a month and week to live. So his Mom decided to move them to Belleville, New Jersey so he could have some peace before he passed on, but the Iero's new neighbor's Gerard and Mikey Way can't help, but want to make Frankie's suffering end.
How will the centuries old Vampire's feel once they learned that the weak and fragile teenager that lives behind them is riddled with Kidney Cancer?
Warnings: Cussing, Boy Sex, Death, Compassionate Vampires, Anti-Sparkling Vampires.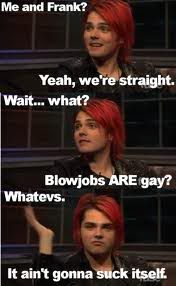 A/N: Okay let me explain. This will in
NO WAY
contain Waycest. Gerard and Mikey love Frankie, but they share him
NOT
do the oh holy with each other. There will
NOT
be threesome action!
Thank you and have a good day.
P.S.: I wish I could change the layout.
Chapters